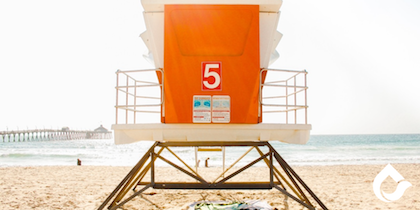 Between work, chores, and family – summertime can be anything but relaxing for business owners. Here are 5 tips for summertime success.
The honest truth is we are expected to do more with less! Now throw a vacation or two in the mix and you come back to an overflowing inbox that puts pressure on existing deadlines.
Over the years we have found ourselves in this same situation. Here's what we've learned and how we've come to enjoy and embrace the spirit of summer:
1. Rest more = Work better
We are designed to work in spurts, not constantly. I don't need to point to a scientific study to prove this, because we've all been there. There is no way to do your best work when you don't take time to recharge. Work gets lazy and less focused and it shows.
Reignite your spark by unplugging on a schedule that makes sense for your overall contentment. Time to "just be" is important for your wellbeing and will produce a better you, thus better work. The Danish are really good at this.
2. When vacationing, take ONLY 10 minuets to connect.
It might sound short on time, but by taking only 10 minutes a day to give a short personal response to *important* emails you'll gain superstar status. The 10 minute time limit ensures your responses are short and sweet.
You should already have notified clients and set up an auto reply so your customers know you're MIA – they are not expecting anything. By giving *important* messages a quick reply, you'll make your customers feel special. But remember, don't do real work, just make the contact and flag it for when you get back.
This is your time to decompress and you've worked hard for it. Take it.
3. Delegate.
I know some of us are type A. I've struggled with this for so long. The problem with delegating is that sometimes you have to start over and do it yourself anyway so why delegate in the first place? Because eventually you'll find the right team.
Having a supportive network is important for a chance at reaching your potential. You can only do so much on your own. Learning to delegate and lead a collaborative team is a pillar for success… don't underestimate the value of a group of reliable people who are motivated by a great leader.
4. Stay on top of social media – once a week.
It's important to reply to social media interactions as they happen, but don't make posts a daily ordeal. Instead take one day a week to schedule ahead and strategically plan out your posts in a pattern that makes sense for your business.
You can even use timing strategies based on past analytics or schools of thought to have your content posted at the most active time for each social network. I love using Buffer for this purpose. Personally, I feel like it's the easiest social media app I've ever tried and the analytics help me plan out future post times and understand the content our followers like most.
5. Find freedom in flexibility.
If you have kids, they are up in your grill all day every day right about now. They are so needy, right? Haha! If possible, try to work into a routine that makes juggling this new summer schedule more manageable.
By now almost everyone has chilled out about traditional office hours. While this might not sustainable all year long, so many people are in the same situation over summer. Don't stress too hard about appearances and focus on doing your best work when it works for you.
Takeaway.
It's going to be okay. Take a deep breath and make it a priority to embrace this temporary change of pace. If you do, you just might find it's the most successful time of year for your business. It is for us! You've got this.
BONUS: Get your "Social Content Strategy Worksheet," complete with extra action items and bonus pro tips.