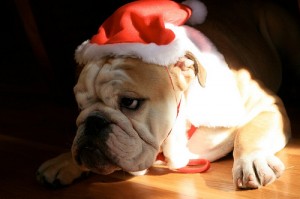 To all of you celebrating this holiday season we wish you all the best it has to offer! To make sure you don't miss a beat, here are the top 10 must-dos between now and New Years:
1. Grab some hot cocoa and take a stroll to look at Christmas lights in a ritzy neighborhood and wave to people like you live there too.
2. Dress your dog up in costume. If you don't have a dog, dress up your car.
3. Elf yourself.
4. Ladies, get a festive pedicure. Gentlemen, sport your holiday ties.
5. Strategically place yourself under mistletoe as often as possible.
6. Attend an ugly sweater party and really go for that winner's prize. Hey, somebody has to win.
7. Don't let the eggnog go to waste.
8. Hit the after-Christmas sales for next year's festive decor.
9. Don't take the lights down just yet, you got them up late after all.
10. Make sure you're not in the bathroom when the clock strikes 12 on New Years. There are no re-dos!