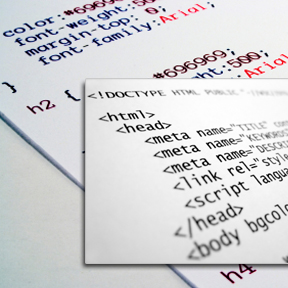 By now you hopefully understand that your business should have some sort of Web presence. These days, customers and clients are looking for YOU and you need to be accessible. Putting your business in the phone book doesn't cut it anymore and in reality, the Web has replaced these old school methods with tools like Google, Facebook and Yelp. Now we can type in key words and find exactly what we're looking for with an abundance of information, images and reviews that give us a pretty solid impression about who we're dealing with.
So what kind of impression are you giving people who find you? Are you even findable? Here are some surefire tips to get you noticed:
1. Discover who you are. Do some brand development to answer questions like, "Is there a disconnect in how I see my company versus how outsiders view it and where should my focus be to communicate my objectives effectively?" Many design and marketing companies have someone on board to help you sort this out.
2. Make sure your logo communicates your brand effectively. Don't say you appeal to teens and then use drab colors or cursive fonts. This is another item that can be addressed with the help of a design or marketing company, if needed.
3. Consult with a Search Engine Optimization (SEO) specialist. Whether you're building your first Web site or revamping your existing site, an SEO specialist can research and develop the best keywords to improve your rankings on Google and other search engines. They can also provide a game plan on how to implement those keywords and phrases into your site.
4. Don't skimp on the copy. Copy is the verbiage on your web site that communicates your message. If you are an excellent writer, this can be a do-it-yourself item, but if not, I'd recommend having your SEO specialist or copywriter create content that not only makes you sound professional, but is optimized to help with your search rankings.
5. Speaking of copy, professional verbiage doesn't have to be boring. Encourage viewers to be readers who can't take their eyes away from what you have to say. Avoid any corporate-speak or buzz words and remember to keep it simple.
6. Consider what you want your Web site to do for you. What is the most effective thing your web site can do for people looking for a business like yours? Do that.
7. Design a Web site masterpiece around all these things. Keep in mind though, a masterpiece doesn't have to be pricy… it just has to fit your business well. Freelancers, agencies and in house designers all have their strong points, but the important thing is to weigh the positives and negatives based on what you are trying to accomplish. This is very important because your Web site says a lot about what people can expect from your business just by its look and how easy it is to navigate.
8. Use your Web site as a platform, not a brochure. In addition to providing information that sets you apart as an expert in your field, also provide other ways for viewers to learn even more and get better acquainted. For example, link to your social media pages from your Web site and show videos or images where relevant that link to your YouTube or Flikr pages. Also, if people were to stumble upon these said social media outlets and other referral sites such as directories or online profiles, they should easily be able to access your Web address to bring them to the center of all your information… your Web site! It's a two way street if you do it correctly.
9. Get involved in Cyberspace. If you can't think of a single way to make your Web site a platform, you need to get more involved. Visit and share advice on blogs, become an expert within LinkedIn discussions, create a Facebook fan page that is interactive and distributes valuable information, build relationships on twitter, add your business to relevant directories and see what people are saying about you on Yelp or Kudzu. If no one's reviewing yet, create your own profile and encourage your customers and clients to post there. Third person opinions and the relationships you build are a big deal… people want to do business with referrals and all of these sites, relationships and reviews do just that… refer.
10. Get out from behind your desk. Go to events or conferences that speak about all these things. You know your customers and clients better than anyone else, but the more you educate yourself on how to reach them effectively, the best chance you have at closing the deal.
Questions? let us help!