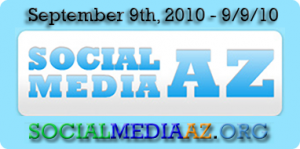 SMAZ, or Social Media AZ, is an annual event that focuses on emerging social media topics and trends.
There were so many great presentations going on at once, it was hard to decide where to be, but here is my recap (in the form of my original notes) of the sessions I attended…

Greg Chapman, SiteWire
From acquisition to advocate – Taking the customer lifecycle digital
In this presentation, Greg talks about how awareness, consideration, interaction, loyalty and advocacy can translate digitally:
Awareness
Local
73% of searches relate to local content. Optimize your website for local searches, implement geo-targeted ads/searches using tools like Facebook, CitySearch and Yelp, encourage local reviews and get on local directories.
Mobile
Optimize your website for mobile… mobile web usage is astounding these days and is ever increasing.
Social
Using targeted Facebook ads (such as age, gender, friends of fans etc.). When someone fans a page, they have immediate influence on their friends to also check out the page and also become a fan.
User Experience
One way to do this is to develop personas that resonate with your audience and talk like your clients talk… You can do this by evaluating your online community via surveys, conversations, etc.
Consideration
Social
Yelp recommendations, friend referrals, friend likes and shares and discount enticement all work toward the consideration phase.
Interaction
Local
Half the people who look online, buy in person. there is still a desire for personal interaction so creating local tweet ups and meet ups is a great way take an online presence live.
Social
Facebook contests, engaging content with polls and questions, customer service via Twitter are all ideas to develop a two-way experience.
Loyalty
Mobil
Apps that are useful for your clients' lifestyle and virtual awards are sure to increase loyalty. Believe it or not, people love winning virtual prizes.
Social
Respond to feedback and reward Yelp frequent shoppers, Foursquare mayors and other social interactions.
User experience
Leverage testimonials to influence the influencers.
Advocacy
Local
Yelp reviews and Google reviews, Facebook posts about great experiences, tweets and videos sharing positive feedback by other advocates segmented locally influence loyal customers to also become advocates because they want to be involved.
Mobile
The ability to like and share on mobile properties is a must for this group.
Social
Cultivate user generated content by retweeting, sharing customer content on Facebook, promoting blogs by end users that talk about their experience and rewarding active community members.
Bart Steiner, BulbStorm
Social media's most powerful tool: your fans' ideas!
Here, Bart provides insight on how engaging fans for their input can not only give you various perceptions and ideas, but can also grow your community:
Prospective customers must believe in your brand before they internalize the message.
Why do others want to share ideas? Because it's fun, it meets a need of engagement and recognition, it gives them a chance to be creative and they are working to help others. Plus, when they share an idea, they get recognition from their own network.
When creating ad copy… make it engaging so they wan to click through and do something fun.
The cycle: Fan –> submit ideas, images, videos, etc. –> interact, earn points –> Share –> WIN!
A great interaction example by Intel: Idea Challenge
Remember, fans have ideas and ideas are naturally social
Interactive social media campaigns usually last about 6 weeks
Laurie Buczek, Intel
Future of the Web: How social media will change the digital experience
This started out as a fantastic presentation, but I left early to sneak into another so my notes here are pretty short.
Mobile apps will surpass the open Web. However, apps are NOT search engine friendly.
Don't redirect people from your website! Incorporate social media directly on your site via widgets, mashups, etc. Check out Skittles.com to see how they did this.
Mike Corak, TallWave
A panel on social focused content planning – tolls, tips and tricks to creating relevant content and conversations
This panel discussion was all about content… content is king!
Develop content around your marketing and company objectives. To do this effectively, you need to have a content strategy.
Remember what the means to the matter is. Don't get caught up in the bling and quickness of social media. Think first.
Change your tone and frequency depending on what the medium is.
Ask yourself where are the golden clients looking for content like mine… this will help your writing and placement.
In case you were wondering… LinkedIn is the #2 search tool, Twitter is #1
Try developing personas for the social media audiences… one for each or overall. It's a great way to tap into your customers and get them to engage.
Groundswell and Flowtown will help you find out how and where your current clients spend their time on line.
Add social LISTENING to your marketing plan.
Develop a listening campaign to understand how your audience communicate about you, what words they use, etc. This can be helpful for keyword research and copy development.
Find out what the conversation is about and make your content fit.
Adding "how to" within keywords can really make a difference. Also, searching them can help you develop content such as creating a blog post to answer a popular question.
Employ regular content audits and repurpose content that was popular in different ways or even repackage multiple items as one in addition to nixing, adding and editing.
Your social media content strategy sound include governance, and editorial calendar, frequency and build of many initiatives.
Measure your success by a return on objective. For example, can you prove awareness was raised? Is it driving sales? Customer retention? Customer satisfaction? Measure by piece and overall.
Also check out Tweets from the event! #SMAZ