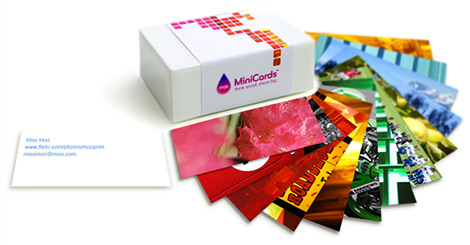 When I came across these mini cards I couldn't stop thinking of cool ways Liquis and our clients could use them. The possibilities seemed endless! These mini cards come from Moo and what makes them universal is not only their size and surprising durability, but the capability to make each card unique with a different design.
Right now, Liquis is working with Moments Salon, a client of ours, to create mini cards for their new laptop stations. The salon purchased a bunch of Dell notebooks and attached them to mobile stands for customer use while they're getting all dolled up. That's when the wheels in my marketing brain started spinning.
We had just finished building a dynamic "What's New" page on the Moments Salon Web site and also helped them get set up on Facebook, both as a way to reach clientele about news and exclusive deals. The problem… traffic was minimal. The solution… mini cards!
The mini cards will be pl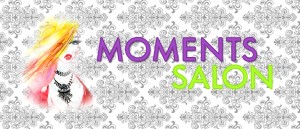 aced at each laptop station and at the front counter with conversation starting designs and Web addresses to their What's New and Facebook pages. The designs are complimentary to both the salon Web site and their Facebook page avatar with the signature Victorian wall paper and whimsical illustrations.
Here at Liquis, we've also ordered our share of mini cards for our own
promotion. Like many businesses, our clients are our best resources. Knowing this, we wanted to think of a way that would make it fun for them to refer us. So… we ordered a mixed pack of mini cards with designs specific to each client on one side and our info on the other. I've also seen this done by photographers who send mini cards with their clients' photos on them as referral cards.
Some other great ideas for mini cards are promo cards for events or launches, punch cards for loyal customers, in-store promo or coupon cards, a means to provide wireless info for customers utilizing hot spot privileges, a retail tag, and my favorite, a puzzle prompting customers to collect a number of the pieces to win a fabulous prize.
What could you use mini cards for?