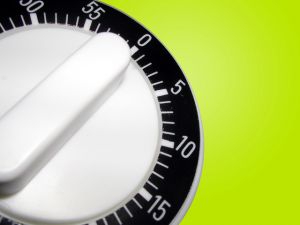 I must start this off by validating that we do indeed care about and have a very close relationship with deadlines her at Liquis. In fact, it's not uncommon for the design team to be the first ones in and the last ones out or even work weekends if a project gets down to the wire. We work very hard to meet deadlines without sacrificing an ounce of great design or development standards.
Now that the disclaimer is taken care of, the truth about deadlines must come out. Sometimes deadlines are meant to be broken.
Did I just hear a "What the?!"  I know, it freaks me out too, but sometimes it is in the best interest of the project. All projects, especially ones with many facets, have certain unknowns that we must conquer. This can include anything from mid-project client edits, discovery that leads to changes to the original scope, items such as photos or other files that are late getting to us for one reason or another, delayed feedback or sign offs… it could be so many things and even as cliche as it sounds, every project is unique.
Before the project is started a due date expectation is set for the scope of work agreed upon. But sometimes things change! If you're entering into a project with a Web design firm, here are some things to keep in mind when it comes to your due date expectations that will help the project run nice and smooth:
Realistic Expectations
When everything goes as planned, the original timeline should be met. This is the best case scenario and should happen more times than not.
If changes are made to the project, the original timeline should be extended accordingly. Usually in this case an amendment to the contract is signed by both parties with a new due date for the finished product. In other cases where a new and unusual request is made, there may be some unknown factors at play, but a general timeline should still be in place.
Delays in deliverables needed by the designer/developer to complete or move forward on a project will most likely result in delays in the projects completion. Many times this is a verbal agreement, but extensive delays may require an amended contract if the client prefers.
Irrational Expectations
Daily or weekly due dates of items within the project scope due date. Design agencies just don't work like this. With almost every project there are circumstances you can't plan for. For example, some seemingly simple items may create certain roadblocks or require more analysis than expected.
Changes to the original scope and expecting the project to still be complete on the original due date. Usually changes mean more work and at the very least they require re-direction and further planning.
Tight deadlines with unknown periods of approvals. The more time a client takes to approve a project or come up with edits, the less time there is to do the work. This makes tight deadlines a slippery slope for designers, one many are weary to take.
Hopefully you find these points helpful from a designer firm's perspective. I know it can be intimidating to invest so much into something so foreign to most and not knowing exactly what to expect when it comes to deliverables.