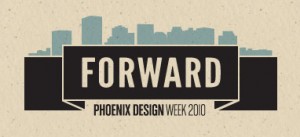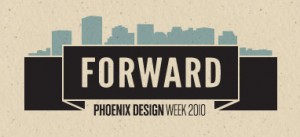 Strait from the horse's mouth… here's all the goods:
Today is the start of Phoenix Design Week! Exhibits will be open from 10-6PM at Sitewire, Air and Co+Hoots.
Tonight, our first evening reception is happening at Sitewire, which features the exhibits Alphalimn, a collection of illustrations from Tiny Army, the letterpress of Melissa McGurgan, and select works from Jon Arvizu—read about Jon in our latest blog post. Be sure to stop by while its open, from 6-8PM. This event is FREE.
Thursday: The exhibits are open again at all locations from 10-6PM; this time with our evening event happening at Air. We've got Creative Roulette, Shelved, an exhibition by Victor Vazquez, and a selection of the Forward Posters. Be sure to stop by for delicious Butter & Me cupcakes and Shamrock Farms milk, mmm. This event is FREE.
Also happening Thursday evening is Ignite@ASU
Friday is the last day to check out the exhibits at Sitewire and Air when they're open from 10-6PM. Co+Hoots is open regular hours before the evening event running from 6-8PM. Be sure to stop by and check out the exhibits featured here such as PHXLAYERS and Tesselate.
Then, head down to The Levine Machine for a First Friday/Design Week event going from 7-10PM. In addition to being able to early-check in for the conference, we're showing this years Motion Graphics Festival. You can also see work by Jason Hill, Jon Ashcroft, Chanelle Richardson and live painting by Tim Brennan.
These events are all free to the public! We hope to see you there!
And don't forget to register for the the conference at the convention center. Not only does registration include entry to the conference, but also a free book, a swag bag of goodies, the winning Forward poster at full size, and entry to the attendees-only party happening at The Clarendon Hotel/Gallo Blanco on Saturday night. Can't top that offer, we promise 🙂
We've put together this Promote page so that you can tell all your friends about Design Week. You can find content for blog posts, icons for your social media, and even a letter to help convince your boss to send you to the event.
We want to share this amazing event with as much of our community as possible. Please help us spread the word!
Phoenix Design Week is purely a volunteer effort put together by designers for the design community. The events and conference are engineered so that everything you put in to PHXDW, goes right back to the community. We appreciate all of your support and dedication. Thank you.
Sincerely,
Phoenix Design Week