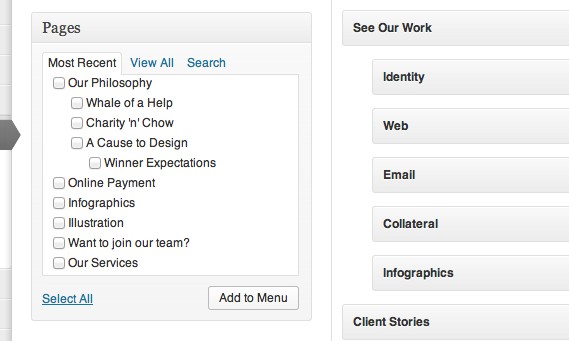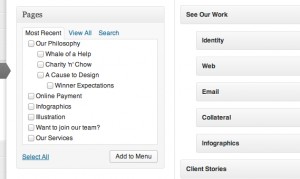 When you create a page on most WordPress websites, it doesn't simply appear in the navigation.
Here are the simple steps to getting it there:
1. After you've created the new page, go to the "Appearance" tab on the left menu in the admin portal and select "Menus." 
2. You will see a list of sorts on the right side of this page with all the active navigation menu items on your website. You may even re-order your navigation menu by dragging and dropping the bars into the desired location. If you drop the bar slightly to the right of the one above it, you will create a sub page that will display as a drop down menu item or child page in the navigation menu.
3. To add a new page to your navigation menu, locate the "Pages" container to the left of the sortable menu bars described above. Check the box next to the page you want to add to the menu and click "Add to Menu."
4. The page will appear at the bottom of the sortable menu and you can simply drag and drop the bar to the desired location.
5. Once you are happy with the page order, click "Save Menu" and refresh your browser to see the changes on your website.
Do you have a WordPress question? Share it in a comment below and we'll keep you posted!