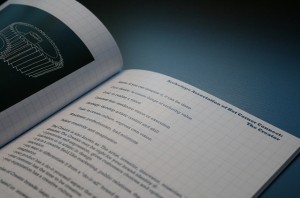 When you start out with a new business, brand guidelines may be a little far out for you to think about just yet because you're still figuring out your core identity and how that looks. A great way to develop consistency in your identity is to create a book that encompasses various conceptual and visual aspects.
Here's an example of an identity book we created for our client, Hot Corner Connect. We were hired to name, brand and create a membership website for the new company. In creating this book, our purpose was to give the client something tangible and whole that they could refer to for consistency within the brand as the company grows. It's certainly not as complete as brand guidelines are, but it's a great place for a new business to start.
To create your own identity book, here is a list of items you will want to include:
Archetype association or persona to align your company with – We have developed a quiz for our clients which can be very eye opening because the archetype they expected to be is not always the archetype they actually are. However, you can also choose your archetype or create a persona that you want to be and grow your brand in that direction.
Naming process – This can include notes, scribbles you made, elements you were looking for in a name or whatever drew you to your final business name.
Logo process – What were the descriptors you used to describe what you wanted your logo to project? What did the initial designs look like and how did the evolution of your final logo take place?
Signature colors – List out a handful of colors and associated color codes so you always get the right match.
Signature fonts – This should include header and paragraph fonts as well as the appropriate size or proportions for each.
Website visuals – Great items to include here are notes you made about what was important to the look, the design wireframe and mockups.
It's totally acceptable to keep this as a PDF on your computer, but for quick access or to show off to your customers what a personal and well thought out business you are, a published book can be a great conversation starter.