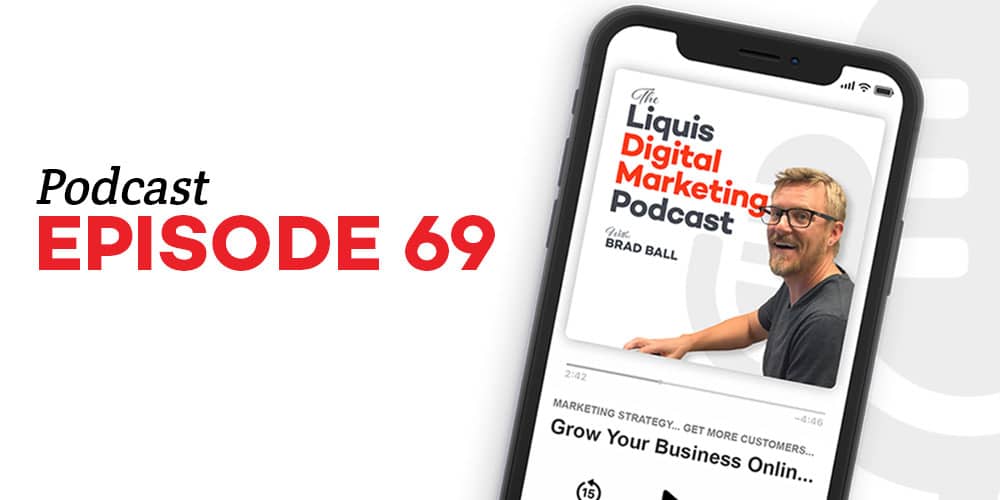 Show Notes
If you're a small business owner or entrepreneur and have spent even one second on social media lately, you know video is taking over.
Look I get it, as a business owner it can be challenging to figure this out…
What to post, how to post, what equipment you need, how to position your camera, finding the right lighting, and how to edit it all!
I'm answering ALL of these things today, so listen in!
Discussion Topics:
Why video should be in your social media strategy
Know your niche and stay there
Create content pillars
Equipment
Camera position
Lighting
Recording
Editing
Posting
Tips
Recources:
My Equipment: View Amazon List
8 tips for adding video to your social media strategy
Know your niche
Create content pillars
Upgrade your audio equipment
Adjust your camera position to the proper height
Upgrade your lighting equipment
Script out what you're going to say
Use editing apps to make your video quick and to the point
Post your video on all the social media platforms
Episode 69 Podcast Transcript: The beginners guide: Leveraging video in your social media.
[00:00:00] If you are a small business owner or entrepreneur and have spent even a second on social media, then you know how video is taking over. Everyone is trying to keep up with TikTok vertical, short form video. Look, I get it as a business owner, it can be challenging to figure all of this out. Like what to post, how to post, what equipment do you need, how to position your camera.
[00:00:25] I mean, what about lighting? How do you record and make yourself look good? And then how do you edit all of this stuff you recorded? Well, I'm answering all of these things in this episode. So stay tuned.
[00:00:41] Welcome to the Liquis digital marketing podcast, where each week we'll be breaking down complex marketing topics into bite size steps. You can take now to grow a profitable audience for your business. We'll discuss organic reach, offer optimization, paid advertising, email marketing, content creation, promotion techniques, and so much more.
[00:01:00] I'm your host, Brad Ball, founder of Liquis digital, a marketing agency that has helped hundreds of clients of every shape and size reach their business goals since 2008. Thanks for joining us today and be sure to subscribe because you won't wanna miss a beat. Now let's grow.
[00:01:19] Hello, my friends, and welcome to the Liquis digital marketing podcast. In this episode, we are talking about leveraging video. In your social media. So this is like the beginner's guide. All right. I've been posting video to social media for years now, and I've learned a ton today. I'm sharing it with you.
[00:01:43] We're gonna go over equipment. We're gonna go over camera position. We're gonna go over lighting. We're gonna go over what you should be posting and how to develop that recording tips, editing all of. Right. Okay. So let's jump in. I don't want this to get too long and outta control because I got a ton of stuff to go over first off.
[00:02:01] Why video should be in your social media strategy? Well, I will say from what I see, and this is not just my opinion. All of the platforms are really, really changing to be video first, really Decat to that vertical short form video like TikTok. Right. And we've seen it. We've seen it all over the place.
[00:02:22] TikTok came up now Instagram has reels. Now YouTube has shorts. Pinterest has idea pins. I mean, It's everywhere. I mean, Facebook reels too. So they're all doing it now. I will even say, I just noticed the other day I went onto Netflix on my phone and they even have a similar like feed style, vertical, short form video, like TikTok on Netflix.
[00:02:47] Seriously, if you haven't gone onto Netflix on your. Check it out. Check out the updates of the app. The very center button is just little shorts of shows that you can flip through very TikTok style. Right now, of course, this isn't user generated content like the other social platforms, but it's the same theory of content, little short segments of video.
[00:03:07] They're all doing it. At some point, if you are looking to leverage your business on social, which really the whole point of that is top of funnel, getting new eyeballs, getting new exposure. That's what social media is creating connection with your audience and building a community of people. That's what your social media strategy is, right?
[00:03:29] Yeah. You're gonna sell, but that's not the main point. The main point is to build an audience, to gain awareness, connect and build that connection with where your audience is hanging out. So video is what everyone's pushing. So if you're looking to get new eyeballs, you are gonna need to do video. If you're gonna continue to just.
[00:03:49] You know, stories to Instagram, then you're gonna continue to connect with your current audience, but you're probably not gonna grow it that much. So if you're looking to grow, you're gonna have to adopt the strategy. Let's talk about how you do that. First tip is you need to know what niche you're in and you need to stay there.
[00:04:04] Right? So if you're gonna create a TikTok calendar, start posting Instagram reels. You need to have your vertical, like, are you talking about cooking? Are you talking about weight loss? Are you talking about stretching? Are you talking about gut health? Are you talking about beauty products? Are you talking about traveling in your van?
[00:04:21] Is it about Airbnbs? Like what the hell are you talking about and stay there? Don't talk about. All of it. Don't talk about, oh, Hey, I cook and I also play the guitar and Hey, here's some marketing tips because there's a couple problems. People are gonna follow you for one of the three things that either like you, because you play guitar and they're interested in that and have no interest in marketing or the other problem.
[00:04:45] Is the apps themselves are gonna learn your content. And the algorithm's gonna learn who is gonna wanna see that content. So it's gonna get really confused if it's half the time trying to show your guitar videos to marketers and your marketing videos to your guitar audience, right? Like it's not gonna work.
[00:05:02] You need to have separate accounts for separate niches. So know your niche and stay. the next thing is what should you post? Well, the best place to get started is to create what we call content pillars. So let's say your niche is in cooking. So maybe it's recipes, maybe it's tools, maybe it's cooking techniques.
[00:05:22] You know, maybe these are the three pillars that you always post about. What that's gonna do is it's gonna make it to where, when you go to create what content you should post, this is gonna keep those in the right silos. Like you're not gonna stray off. You're gonna know like, Hey, I need to keep posting about these content.
[00:05:36] Like for us, it's web design, it's about paid advertising. It's about email marketing. So we're kind of even kind of big, right? So there's some people that only really talk about content and there's only people that talk about email marketing and there's only people that talk about web design and they could even more niche.
[00:05:51] And that's great. We keep it a little bit more broad, but that's us. My point is, is, uh, know what your niche. Come up with these content pillars, and now you can go out and find content to fill into these pillars and your content is always going to be consistent and your audience is gonna thank you. And so will the algorithm.
[00:06:08] All right, I'm going fast because we got a lot to talk about today. Woo. All right, equipment. Let's talk about if you have no equipment, you're just already off all. Got it. You got nothing. You don't got a light. You don't got a camera, but let's say you do have a phone. I'm gonna assume you have a phone. If you don't have a phone, then I don't know what you're doing, but just use your phone.
[00:06:31] If you have no equipment, your phone will work just fine. So just start with. When you go to upgrade, the next thing that you should upgrade in your arsenal of equipment is your audio. Because for some reason, our human anatomy is able to deal with bad video, but we have a really, really hard time dealing with bad audio.
[00:06:54] Bad audio is it's just hard for our brains to focus on the content when the audio is. So upgrading your audio would be the first thing. The next thing is your lighting. The reason why the lighting is because the right lighting can make even your phone look pretty damn good. So start investing into lighting and we'll get into some lighting in just a little bit, but that would be the next thing to invest into and then invest into a nicer camera.
[00:07:20] Something like what we use is the Sony a 6,400, it's a very affordable, great high definition camera, but there's a bazillion the different cameras that you can research. I'll talk about some of those in a little bit also do check the show notes because I will be leaving a link to like my Amazon like product list.
[00:07:38] So you can go and see all of the different stuff that I use. So you can just kind of see it there. So that's equipment. Moving fast here. Camera position, your camera position. If your camera is too high. Then, what that's gonna create is this thing where you're looking up at the camera and when you're looking up, it's gonna, you're gonna come off as weak.
[00:07:59] If your camera is too low, then you're gonna be looking down on your viewer and it's gonna make you come off as like bullish or arrogant. And it's really not as flattering as it's coming up into your chin and under your nose. And it's not a good look. So the perfect camera position is. Eye level and slightly down, if anything, and that will help you come off as equals and put you in a position with confidence.
[00:08:25] And I do see a lot of people get this one wrong. So look at your camera position, you know, is it too high or is it too low? You want it eye level and you wanna look. Into the lens of the camera. If you have like a screen that pops up and you're looking over here and you're talking into the screen, or you're talking up here and people aren't really, you're not looking into the lens, you're not looking into people's eyes.
[00:08:45] So you gotta look into the lens of your camera. The next thing is the lighting. All right. So we're talking about. The lighting equipment and the lighting set up, there's kind of two pieces, right? So let's say you don't have any lighting equipment. Well, then what you can do is find a window and to use accurately use a window.
[00:09:02] The best thing that you can do is put the window at a 45 degree angle to your face. So the light's coming in at a 45 degree angle lighting, one side of your face and kind of putting a little bit of a shadow on the other side, it's called Rembrandt lighting. And that's what that. If you go head on, that's fine too.
[00:09:18] You definitely don't want the window behind you because I will create a silhouette. So the window in front of you preferably at like a 45 degree angle, you know, if you can kind of like diffuse the light, then, you know, kind of like have the blinds kind of open or, you know, if you can put like a sheet above it, then that kind of diffuses the light.
[00:09:35] So it's not so harsh. That can be a tip too. Um, That's if you have nothing, let's say the next step up is to have a ring light. So a lot of people just have, you know, with a very inexpensive, you can get 'em at target, just a little ring light. If you have a ring light, my recommendation is to make sure the ring light is directly in front of you vertically and horizontally.
[00:09:52] Right, right in front of you. Cuz that's gonna put those circles right in your eyes, right there in front of you with the camera in the middle, don't have a ring light and then the camera down here. Because you're gonna get weird shadows. You want the camera right in the middle of the ring light. Now for more of an advanced setup, we would have a three plus lights.
[00:10:10] So what you're gonna have is a key light. This is actually what I'm using right now. Three lights. You have a key light, this is your main light source. So if you go just Amazon, Google key lights, you'll see a ton of different options. Basically. It's a big light. I like to keep my key light at kind of like above just slightly above me.
[00:10:30] And it's like, it's just like right here. And it's, it's not far away. It's right here. Um, it's diffused with a diffuser. It's kind of big, got umbrella over it. That's the key light. That's the one you set first. So my suggestion is sit in the dark room. Get your key light set up. All right. I have mine outta 45.
[00:10:46] I wear glasses. So if I had it straight on, then you're gonna constantly see glare. So I like mine outta 45. Now the next light is your fill light. So this is a very soft, faint light. That's gonna be opposite of your key light. So coming in this way, and this is the light I'm kind of minus right now, um, with my setup, usually I kind of use my window for that, but it's gonna give a fill in a little bit more here and kind of equal out the, the light.
[00:11:12] So you kind of have a main source and then just lightly, you know, reducing some of the shadows on the other side of your face. That's the fill. You can even use like a reflector. You know, if I put up like a white sheet of something like right here, it's gonna reflect that whiteness onto my face. It can even be that subtle.
[00:11:28] And then we have like what they call a rim light or a back light. It just basically kind of highlights my hair and highlights my shoulder. I kind of have it a little bit more forward right now. So it's kind of acting more of a fill light than it is probably a rim light. But what it's doing is it's creating a little bit of a shape, a little bit of, of a space, a definition between me and the background.
[00:11:48] Which I'm also cheating that with some practical lights. So practical lights are basically, they're just lights in the background. This RDB light creating just some intrigue and some ambience in the room. And you know, it just kind of creates that nice touch. So that's lighting. So let's keep moving on here, cuz we do have some more stuff to cover.
[00:12:07] The next thing is recording. Obviously, if you're recording TikTok in reels, you need to make sure your camera is vertical and not horizontal. I think that would be fairly self-explanatory, but just in case you wanna make sure that you frame yourself in the center of the frame where you're not too close, but you're obviously not too far back.
[00:12:27] You want people to be able to like see you, but you also don't want to like completely take up the whole frame. And also you don't wanna have like too much head space above you. Right. So if I you're filming and you're just kinda like this little person and you have all of this head space and this vertical video, then you kind of just look like this.
[00:12:41] Thing at the bottom. So you don't want that. You want to kind of take up like the two thirds of the screen with maybe one third above you. another recording tip is know what you're gonna say before you record? Like, I have all of my stuff like scripted out, so I know what I'm gonna say. At least have some notes, like at least have some thought, like don't just turn on the camera and just start like, well, I'm gonna, you know, what am I gonna say?
[00:13:06] Like, know what the hell you're gonna say before you start talking, be organized with it. Like you wouldn't go give a speech. You're trying to give value. You're trying to be succinct in this delivery. You wouldn't do that just off the cuff in front of people, you would be prepared. Hit record and go, if you mess up, just keep going.
[00:13:22] Do all of your, your whole video in just one take don't feel like you have to get that take a hundred percent, right? So let's say you have 30 seconds of things to say, right? Like you have like four sentences in this TikTok or this video and you get through the first sentence and you get halfway through the second sentence and you mess up.
[00:13:40] Just start back over on the second sentence and don't think you have to like, do the whole thing perfectly to stop it. Do the first sentence. If you mess up on the second sentence, just go back and redo the second sentence. If you have to break up the second sentence into two pieces, like you can always edit out these things in editing, which will kind of get you in a minute.
[00:13:57] So just do it all in one take. You wanna make sure that your audio is getting captured at a good level. So you have to do some tests, right? You have to make sure that you let's record and then let's replay it back with your phone at maybe half the volume up. So you can kind of see, like how loud is it coming off?
[00:14:13] Is it like clipping and coming off distorted? That means it's gonna be too loud. Is it too quiet? That happens a lot when I'm watching like TikTok videos, it's like, I can barely even hear what this person's saying. And then they're gonna go throw some sounds over top of it. I can't even hear what the hell you're talking about.
[00:14:26] So you wanna make sure that your levels are high enough to where people can hear you. All right, moving on. You wanna try to avoid recording in echoy rooms? This is great. I guess if you're creating, like singing TikTok, then echo is great. But if you're just talking, like I am 90% of the time, then you wanna make sure that you're not in an echoy place or an echoy room.
[00:14:48] So try to use a sheet or some sound dampening or whatever you can, if you can avoid it, you can't avoid it. But if you can pick a different room that doesn't have so much echo, then that would be. Echo is gonna create emptiness and this big hollow feeling. All right, let's talk about editing. So now you've recorded all of this stuff.
[00:15:05] Now what, right now you have the task of editing. So you're not a video editor. How are you gonna do now? So super simple. There's some easy software out there. Cap cut. You can install it on your phone. You install it on an iPad. Don't know if you can install on your desktop. I never tried that, but cap cut C P C U T.
[00:15:23] It's a video editing software. It has a ton of tools, a ton of tools. And there is maybe a little learning curve, but editing software is all somewhat similar. Right? You have a timeline and you put your clip in and then what you're gonna do is you're going to cut your video. But let me talk about that in just a second.
[00:15:41] Some other softwares to. Our premier pro this is Adobe's, um, video product. This is actually what I use. It's kind of an expensive one. You know, probably if you're just not a video editor, it's probably not just something you have another good tool to check out is D script. It does some other things that we're gonna talk about in a little bit, but you actually, they have this update where you can actually do some pretty cool editing in it.
[00:16:03] Now they have a free version. They have a paid version, and I will be honest. There is a million different softwares out there that you can. To cut your videos and edit your videos. I would recommend just starting off with cap cut, cuz it's free. If you're just getting started, there's tons of help articles.
[00:16:17] It's pretty easy to figure out and to use. Okay. So the other option is to just upload your video into TikTok and use their editor. However, there can be kind of some downfall to that. Let's say you use an app. Editors. So reels or TikTok, you upload it, you post it and now you're gonna download it and repost it to other places.
[00:16:37] The problem is the issues with the sound. Depending on what sound you chose, that sound is licensed to that platform. So it doesn't necessarily mean that that's licensed on all the other platforms. You don't own that license. The platform owns that license, and it's allowing you to use that license. So if you export that video and go post it on YouTube, well, YouTube may not have the license for that video and you don't have a license.
[00:17:01] So now you're using a video with unlicensed music. So that's one of the problems with doing the in app editors is when, if you export. PO repost it somewhere else, which you should be posting other places. Then you're gonna have this music situation. Now, if you're not using music in your videos, then probably not a problem, but something to definitely keep in mind.
[00:17:22] These apps, don't penalize you for uploading a video from your phone. Like whether you record it on right in the app and edit right in the app, they don't care right now. They're not caring. I would suggest recording it on your phone or a device, edit it and then post it to the different places. Okay.
[00:17:40] Let's talk about cutting your video. So basically cutting is chopping it up, right? So we just talked about recording your two minutes of 32nd video, right? Because you screwed up a bunch of times and you had to do a couple takes. Right or you'd set a sentence, took a break, set a sentence, took a break, set a sentence, right?
[00:17:53] So you have to cut it out. You have to make your videos short and succinct. And with really fast cuts, a cut is basically where you remove the dead space, right? So you're have this one video and you splice it and then you remove the dead space, remove the dead space, bring it together. And it like goes right together.
[00:18:11] So that's what cutting your video is. You wanna cut it really tight from one clip to the next. That's how you're gonna kind of create a fast engaging video. The next thing is to incorporate zooms or changes every three seconds ish. So every three seconds in your video, something should change the video should zoom.
[00:18:31] Maybe you come out, you go in, maybe it's like a slow zoom. Maybe it's the change of a background. Maybe it's a change in voice tone, or maybe it's, you know, just a change in position or a sound or change of music, whatever. There should be a change every three seconds. This is gonna keep people watching your video longer.
[00:18:48] The more you edit, the better you get, it just takes a little bit of time and there's techniques. There's things that you'll learn as you do it. There's things you'll learn about the software and the apps as you do it. So it just takes a little bit of time. You just gotta do it. To get better, that's it? Um, if you have the budget, you can find video editors to edit your video for you.
[00:19:07] There's a bazillion out there. So maybe that can happen as well for you if you're not wanting to edit it. And that will save you some time. The other thing is to add captions to your videos. Captions are like the words on the video. These apps do have built in caption ability. So that's great. Instagrams is pretty good.
[00:19:25] Tick box E it's just okay. I recommend using cap cut or descript, even premier pro does this. If you're using premier pro, then this is probably not a beginner video for you. You're probably not even watching this video anymore. Descript is really, it has, that's what I use. It has a really cool feature where it'll transcribe it and it'll like play the, the word that you're saying it'll highlight it.
[00:19:46] So it kind of is animated. CAPA has really cool captions as well. So this is going to make it to where people can consume your video without having to listen to. A lot of times your video is actually being watched without audio. And this also helps with accessibility. Okay. Posting these videos now that you have it edited, you need to post it.
[00:20:05] You wanna post it to TikTok. You wanna post it to reels. I recommend posting to YouTube shorts. Pinterest idea pins. I also recommend posting to LinkedIn if it makes sense, right? Like I wouldn't, if you're doing like some trendy videos or you're dancing, probably not LinkedIn content, but if you're providing valuable, helpful content to your audience, LinkedIn is great.
[00:20:25] They actually are looking to push creator content. So I do recommend putting it on LinkedIn, even though you probably think, Ooh, it's too businessy. I would do it. Give it a try. When you've recorded and then edited, and now you have this video that you're getting ready to post. It shouldn't have sound right.
[00:20:43] Like music. I should say music. It might have sound effects if you've added that, but it shouldn't have like music that you see, like on TikTok. You wanna add that music in the native app. So if I'm uploading my, my video to TikTok, it's not gonna have sound until I add it into the app. Like through the app when I upload it that way, I know I'm using that app's license for the sound.
[00:21:03] Likewise with Instagram. Oh, and they all have music to add if you're adding music. So that's, my suggestion is to add the music in the native app and that way you're not having to worry about the licensing. All right, we're getting close to the end here. We're gonna talk about some tips. To posting video in your social media strategy.
[00:21:23] Number one tip is to be consistent. Pick a schedule that you can stay consistent with. If it's posting a video every two days, then post a video every two days and stay consistent with that until you can do more. And my tip to stay inconsistent is to batch, create your content, create all of your scripts in one setting.
[00:21:39] Go then take all of those scripts and film all of your videos in one setting. Take all of those filmed videos and then go. Edit all those videos in one setting, you're batch creating your content all at once. You're not doing one a day, one a day, one a day. You'll lose it. Don't do it that way. Batch create you.
[00:21:58] Wouldn't engage with your audience. If the whole point of doing this is to build a connection with your audience and build community that happens in the comments section. So be active in your comments, reply to people, engage with other people in their comments. Your videos should have a hook. A story in a call to action.
[00:22:19] The hook is basically the three seconds in the very beginning of that, hooks them in that wants to make them watches. Here are the three reasons why X equals X or why you should be doing this, or here's five reasons why you're missing out on TikTok, right? Like that's the hook. That's, what's getting people in.
[00:22:36] Go back and look at my videos. They all have a hook in the beginning and it's what hooks them in. It's really all over TikTok. So if you don't know what a hook is by now, just get back on TikTok and scroll. You'll eventually find a video that's telling you what a hook is and what you should do with a hook.
[00:22:51] the next piece is to have the story in the middle, the educational piece. And if you can tie that story of how that translates in your world, that's great. And at the end, have some call to. What do you want them to do? Like and follow? Do you want them to, you know, check out your, you know, your podcast or whatever, couple things with the call to action, the platforms are getting pretty finicky about certain things that you say.
[00:23:15] So saying Lincoln bio is going to probably hold back your video a little bit. So I wouldn't say Lincoln bio. I've also heard recently that, uh, follow for more, uh, is another one that they've kind of been holding back on. However, I haven't seen that happen yet, but you know, have a call to action. What I like to do is.
[00:23:34] I actually put link and bio in text on my videos, but let's say you didn't do that. You could, um, pin a video to your profile and say, check out my latest pinned, or check out my pinned post for more. And you could have that information in your pinned post. And that's a great strategy to drive people to another video where you're then instructing them what to do and what action to take without having them leave the platform.
[00:23:58] And that's really what these platforms don't want. And they don't want you to tell them to leave the platform. So. Also another tip is don't just sell. You have to be providing value. You might sprinkle in a, a sale here and there, but really the 99% of what you're posting should be just straight up value.
[00:24:17] I would also experiment with different links of videos, right? Sometimes they're gonna be longer. Sometimes they're gonna be shorter. See what works better for your audience and how your message is delivered. And also. Don't just do all trends. Like sometimes I just see people just like, they feel like they have to just do trends because it's TikTok.
[00:24:33] Well, you don't don't actually, it's not good to just do all trends. Trends might get you more eyeballs, but trends don't build like a connection in community trends. Don't always overvalue. So yes, incorporate trends. Into your strategy, but it should not be all trends. You know, I try to do the majority of what I'm doing as value and then do a trend here and there that's really what works for me, but find what works for you.
[00:24:55] Okay. I know this one was a little bit longer, but look, there was a lot of information to unpack in this and this. I wanted it to be a little bit more comprehensive for a beginner's guide in how to leverage. Video into your social media, because I really am passionate about this. I think it's gonna be really important.
[00:25:12] And if, look, if you have any questions on this, let me know, check out the links in, in the show notes, because that's where I have some links to the equipment we use and equipment I recommend. And, uh, hope you found this valuable. Please leave us a review on this podcast. If you found this valuable, that helps us out and we'll see you in the next.
[00:25:30] Thanks for listening in today. I hope you enjoyed the show and Hey, if you did, please take a second to leave a review and share this episode with someone who you think might also benefit from it. I appreciate you so much. And as always, we're here to help. If you have any questions about this episode, or want to talk strategy with us about your own project, just shoot us an email to the info.
[00:25:49] Liquis Digital dot com and we'll catch you in the next episode.